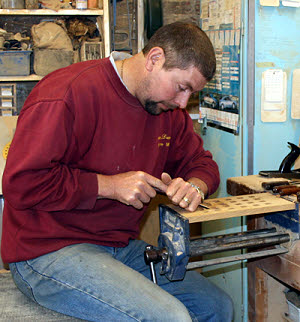 Here in the small North Yorkshire village of Bagby, near Thirsk, in James Herriot country, on the border of the North York Moors National Park, and nestling at the foot of the Hambleton Hills, lies a handmade furniture business. Using traditional methods of cabinet making and high class joinery, I produce very high quality furniture in a small workshop here at Rose Cottage, completely by myself.
Most of the work is made to commission with customers putting their own ideas and thoughts into the design of the finished piece, making each item unique. The woods used include our own native Oak and Ash, as well as American Hardwoods such as Maple, Walnut and Mahogany, all of which are sourced from sustainable forests.
There are lots of different styles, colours, fittings and finishes available, and every piece of furniture has a hand carved swan as a trademark. Almost any item of furniture can be produced, from a simple napkin ring to a complete hand built kitchen, or a custom built piece to your specification at little extra cost above standard items.
This is very high quality hand made furniture at sensible prices, which will be admired by many and last a lifetime. So why not visit our showroom, which has a selection of standard items on show as well as small items for gifts.